Industrial Floor Sweeping Machines / Manual Walk Behind Sweepers
We are Manufacturer, Supplier, Exporter of Floor Sweeping Machines and our setup is situated in Karad, Maharashtra, India. This product is also known as Manual Sweeper Machine, Commercial Walk Behind Floor Sweeper, Walk Behind Sweepers,Industrial Floor Sweeping Machines, Outdoor Sweeping Machine, Street Sweeper Machine etc. Dealership Enquiries also solicited. Our product comprises of comprehensive cleaning solutions for a huge type of industrial, industrial and home cleansing necessities. In India, all products are subsidized by vital research and layout insights to suit specific Indian conditions and reflect international styling. Our comprehensive variety of Sweepers caters to several commercial cleansing packages.
Manual Walk Behind Sweeper : Cleanfloor Sweeping Machines are quite unique as our cleaning machines are without any motor. The operator's hand push gives motion to the wheels which drives the main and the side brush. These are very simple and practical floor sweeping machines, especially suitable for cleaning small areas and narrow passages. We have also positioned ourselves as one of the leading sweeping machinery suppliers in India.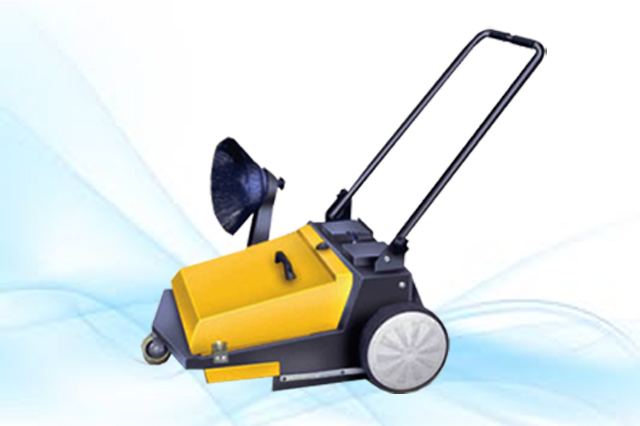 Technical Specifications
PARAMETERS
UNIT
Cleaning Capacity
sq.m/hr
1500
Cleaning width
Mm
700
Hopper Capacity
Lts.
40
Dimensions (L x B x H)
Mm
460 x 790 x 760
Weight
Kg
25
Packed weight
Kg
35
Main Brush on HDPe base with longer life.
Dirt container can be easily emoved for emptying and ins in non corrosive material.
The adjustable side brush can be lifted up
Solid frame out of powder coated metal
Infinitely adjustable main brush ensuring perfect sweeping results without strain
Excellent cleaning of concrete block floor surfaces even in to crevices and joints
Workshop Floors
Parking Lots & Pathways
Airports
Hotels
Railway Platforms
Subways